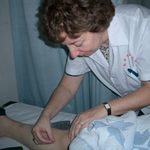 Marie Kenny
Ph.D. Pharmacology Lic. Ac. (Nanjing), Dip. Ac.,Dip. Tuina

Following completion of diplomas in both Acupuncture and Tuina with the Acupuncture Foundation of Ireland, Marie travelled to China to attend postgraduate training at Nanjing University and to work in the rehabilitation department of the Jiang Su Provincial Governmental Hospital. Prior to studying acupuncture, Marie obtained a PhD. in Pharmacology and conducted research in drug development and in psychoneuroendocrinology. She worked in the pharmaceutical industry for many years and developed an interest in studies conducted in both orthodox and Chinese medicine on the effects of stress and the emotions on the immune system. Marie is also a student of Tai Chi and Chi Gung and has attended an International Specialist programme in Oncology Acupuncture with the TCM Academy. She has also attended seminars in numerous topics including Sports Injuries, First Aid, Cosmetic Acupuncture and Abdominal Acupuncture.
Martina Egan
RCN, RGN, Lic .Ac. C.Ac (Nanjing University), CST-T AFPA Membership no. 8124

Martina is a practicing Acupuncturist for the last 14years.She obtained her Diploma in Acupuncture from the Acupuncture Foundation of Ireland and completed her post graduate studies in Nanjing University under the mentorship of Dr Gu Zhaojin at the 2nd Affiliated Hospital. It was was during her years working as a General and Paediatric nurse that Martina came to realise that conventional medicine sometimes failed to address the role of stress and emotional issues as the causative factors in many diseases. She also became aware of the subtle connection between mind and body. This led her to explore Complementary therapies. She has studied Reflexology, Swedish Massage, Reiki, Acupuncture and Craniosacral Therapy. Martina is passionate about bringing deep healing to her clients and sometimes may use a combination of therapies to obtain the desired effect for her clients.